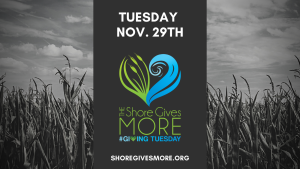 SHORE UP will be participating in The Shore Gives More, a Giving Tuesday initiative of the Community Foundation of the Eastern Shore. On Tuesday, November 29, 2022, we are asking for donations to be made via our Giving Tuesday portal at https://www.shoregivesmore.org/shoreup.  Your tax deductible donation to SHORE UP will supplement our grant funding and allow us to provide important services to even more individuals in our community. We have designated the hour between 9:00 am and 10:00 am as our target for donations. During that hour, if we receive more individual donations than any other non-profit participating in the campaign, we will receive an additional $1000 from the Community Foundation!
Beginning Monday, November 21, 2022, you can schedule a donation for that time period so you can "fix it and forget it".  Thank you for your support of SHORE UP's mission to help individuals and families charter a path to economic security and long-term independence!
Categories: News Releases & PSAs
Tags: charity, donate, non-profit

Related Posts
Pictured (l-r) Brad Bellacicco, director of the Shore Transit Division, and James Trafton, director of . . .
Read More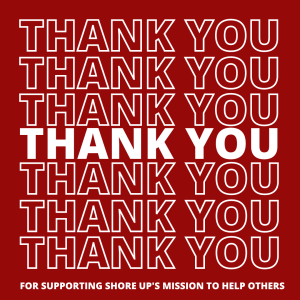 Thank you so much for your efforts in spreading the word about Giving Tuesday and . . .
Read More