HERE'S WHAT YOU NEED TO KNOW….
WHO WE ARE
SHORE UP! Inc.'s Early Head Start and Head Start programs are federally funded community-based programs for economically disadvantaged families. Early Head Start is for infants and toddlers ages zero to three, and for pregnant women. The Head Start program is for children ages three to five. Programs prepare children for successful public school readiness and participation while providing them with a means of meeting their developmental and nutritional needs.
HOME-BASED SERVICES
Staff meets with the parents of Early Head Start and Head Start students at least 90 minutes each week. Parents are expected to participate in these home visiting sessions to receive information and support on parenting issues, as well as resource and referral information. Expecting families also receive details on how to have a healthy pregnancy. Referral and resource information is also provided to pregnant women. SHORE UP! partners with families to find effective methods to deal with issues such as single parenting, illiteracy, homelessness and more.
CENTER-BASED SERVICES
SHORE UP!'s Head Start programs are located in seven counties, including Wicomico, Worcester, Somerset, Dorchester, Kent, Talbot and Queen Anne's counties. Transportation is provided to the child care centers, and children are provided with a variety of educational activities and socialization skills. Breakfast, lunch and a snack are available each day, and children receive routine medical and dental screenings.
PARENTAL ENGAGEMENT
SHORE UP! offers opportunities to support the growth and development of children by providing families the skills necessary to prepare their children at home. Parents may also volunteer for fun activities with their children too, like "Frisbee with Fathers."
ELIGIBILITY
Children are eligible for Early Head Start and Head Start if: they are between the ages of zero to five and their family meets the income requirements as outlined by current federal guidelines; they are homeless or in foster and/or kinship care. Families who qualify for services under the Individuals with Disabilities Education Act (IDEA), or families who receive public assistance, including Temporary Assistance for Needy Families (TANF) or Supplemental Security Income (SSI), are also eligible.
INCOME GUIDELINES
See the link below for Head Start and Early Head Start income guidelines.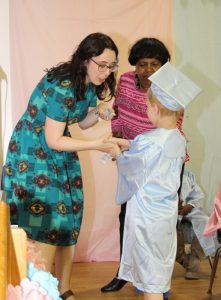 HOW CAN I APPLY?
To apply for Early Head Start or Head Start, click here: https://secure.pro2000md.org/Inapp1.asp
To receive a hard copy application or for more information, call 410-749-1142.