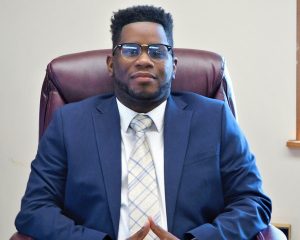 SHORE UP! Inc. has hired a new Housing and Community Development director. William Barclay, a native of Philadelphia, Pa., will now direct the agency's Energy Assistance and Weatherization programs.
Barclay most recently served as the Transportation supervisor for Valley Proteins in Linkwood, Md. where he supervised 36 drivers. Barclay's ingenuity also led to his creation of a Commercial Driver's License (CDL) training manual for new and current employees. Barclay also recently worked for Wor-Wic Community College as a CDL trainer.
The Salisbury resident has previous experience as superintendent of Operations for the city of Cambridge, Md.; Facilities manager/dock master for the city of Salisbury; Marina manager for the city of Salisbury; and commissioner, head coach and driver for the Salvation Army.
Ironically, Barclay worked as an intern at SHORE UP! from 2008 to 2009 in the same department he now oversees-Housing and Community Development.
Among Barclay's varied background, he is also a writer. He is currently writing a children's book, "Candy Princess," scheduled to be completed in December.
Barclay obtained a Master of Science degree in Public Administration from Wilmington University at Dover Air Force Base; a Bachelor of Science degree in Business Administration and Management from Sojourner-Douglass College in Baltimore, Md.; and a CDL (Class A) from Chesapeake College in Wye Mills, Md.
"William has nearly 15 years of government experience and will be an asset to SHORE UP!," says Chief Executive Officer Freddy L. Mitchell. "We needed someone with a varied background who can continue to strengthen two extremely important programs."
The Energy Assistance Program supports over 7,000 individuals and/or families annually in the payment of current and delinquent electric bills. The Weatherization program assists eligible low-to-moderate income households to lower their energy costs. Home improvements, home repairs and energy audits are examples of work completed by the Weatherization office to help lower utility bills.
Categories: News Releases & PSAs
Related Posts
The Princess Anne community recently recognized graduating students in SHORE UP!'s Head Start program with . . .
Read More
SHORE UP! Inc. has announced the appointment of Elmira Whittington Brown to serve as chief . . .
Read More