SHORE UP! Inc. is partnering with Streets Incorporated and Life Changing Ministries to offer Thanksgiving baskets to low-income families. The two organizations will provide holiday dinners to some of the agency's Foster Grandparents and to families in the Head Start and Early Head Start program.
"There are a number of families in our service area who lack the basic necessities. We work diligently to ensure those families have what they need and then to empower them to achieve long-term independence and economic security," says Tameka Kenan-Norman, chief Development and Communications Officer for SHORE UP! Inc.  "Streets Incorporated and Life Changing Ministries are organizations that help us to make a difference in the lives of the families that we serve."
"With COVID surging, many families are unable to congregate and have access to a warm meal," says Kala Farrare, Licensed Certified Social Worker-Clinical and founder of the organization. That's why she chose SHORE UP! as a partner to deliver meals to individuals within the agency's AmeriCorps Seniors Foster Grandparents Program. Kala and Joyce Farrare delivered a basket to one of three Foster Grandparents on Thursday, Nov. 19. In total, Streets Inc. will provide 15 baskets to the community for the holidays.
Life Changing Ministries also sought SHORE UP! as a way to assist the community. In existence for 20 years and in the community for six, Apostle Damian Hinton, Sr. and Pastor Cheryl Hinton will distribute Thanksgiving food bags to eight families on Sunday, Nov. 22. Among those recipients will be SHORE UP! Head Start and Early Head Start families.
"The name of our church is Life Changing Ministries and our mission is to help those that are in need," stated Elder Shannon Thomas, associate pastor. "It is important for our community to know that we are here to help."
SHORE UP! has been serving the Eastern Shore since 1965, and the organization's goal is to help people and to change lives. Kenan-Norman says these types of partnerships help the agency to do just that.
For more information on the services SHORE UP! offers, visit the website at www.shoreup.org, or call 410-749-1142 ext. 351.
Categories: News Releases & PSAs
Related Posts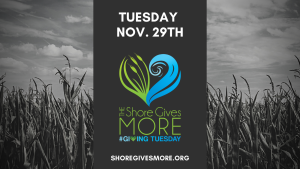 SHORE UP will be participating in The Shore Gives More, a Giving Tuesday initiative of . . .
Read More
Shape your future! There is still time to respond to the 2020 Census. For more . . .
Read More