SHORE UP! Inc. recently received a grant award from the Administration for Children and Families and the Office of Head Start. Funding will serve 572 children in the agency's Early Head Start and Head Start programs, and will support training and technical assistance for staff and governing body members.
For the new program year, however, there will be a difference in the availability of slots for Head Start students. SHORE UP!, known for operating a successful Head Start program since 1965, will now focus more on acquiring students for Early Head Start.
The onset of Pre-K expansion in the agency's service area played a major role in this change. In addition, the agency completed a Community Needs Assessment last summer which also contributed data to help drive the decision for the shift.
Data and the results of surveys from the general public and agency partners were compiled to determine the community's current needs and issues. SHORE UP! serves Wicomico, Worcester, Somerset, Queen Anne's, Dorchester, Kent and Talbot counties, so comprehensive information about the seven-county service area was included in the assessment.
"This Community Needs Assessment indicated that there is a prevalence of children in poverty throughout the counties," says Early Head Start and Head Start Director, Dr. Corey J.  Bowen. "There is also a larger number of infants and toddlers in poverty and fewer slots to serve them, resulting in SHORE UP!'s plan to reduce the number of Head Start children ages three to five who are served. In turn, we are increasing the number of Early Head Start children."
Early Head Start is for infants and toddlers ages zero to three, and for pregnant women.
The program will transition from serving 761 to 170 children in Head Start. Early Head Start students will increase from 172 to 402.
Early Head Start has operated successfully at SHORE UP! since 2010. The program is offered at centers in the agency's seven-county service area, and home-based services are also provided. In the home, staff will meet with the parents of Early Head Start students at least 90 minutes each week. SHORE UP! also assists pregnant women, and partners with the families of students to find effective methods in dealing with issues like single parenting, illiteracy, homelessness and more.
For more information or to register for SHORE UP!'s NO COST Head Start or Early Head Start programs, visit www.shoreup.org, or call 410-749-1142 ext. 1041.
Categories: News Releases & PSAs
Related Posts
Although SHORE UP!'s offices are now closed to the general public, eligible individuals may still . . .
Read More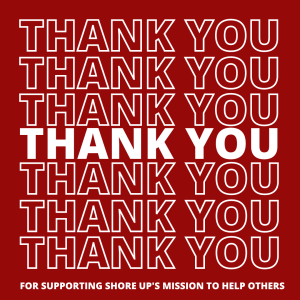 Thank you so much for your efforts in spreading the word about Giving Tuesday and . . .
Read More